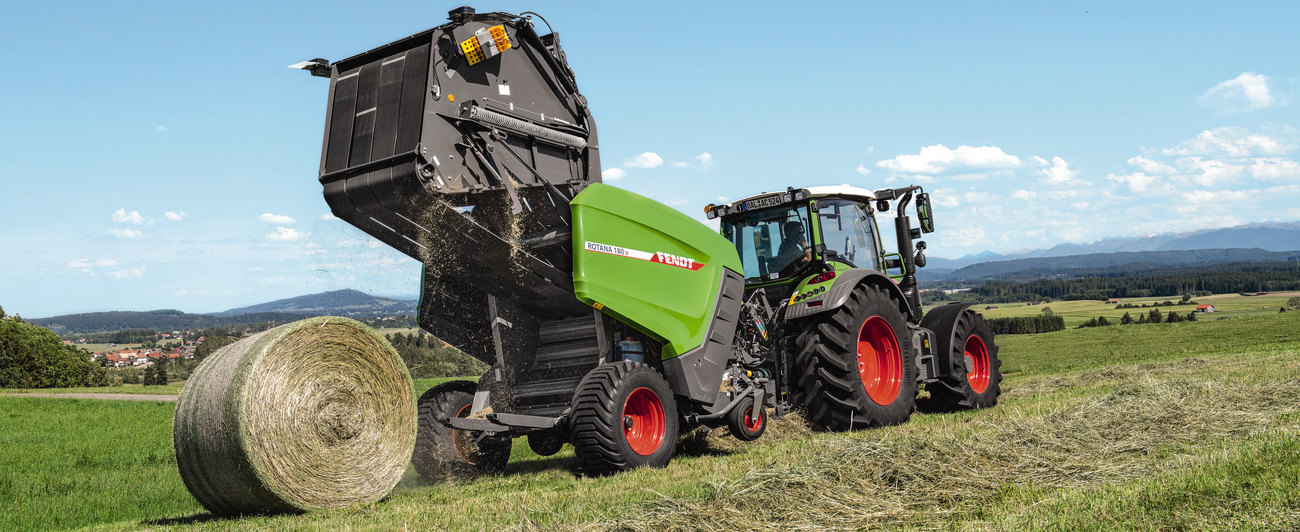 Evident in each bale: Experience, innovation and reliability.
Every operation is different. That's why we offer Fendt's 160 V, 160 V Xtra, 180 V and 180 V Xtra variable round balers. From the robust, simply equipped and knife-free entry-level machine with low power requirements, to the 180 V Xtra machine for professionals.
The technical innovations make all the difference:
Cam track free pick-up
HydroFlexControl feed channel floor
Up to 25 knives with group engagement
ISOBUS
Special chamber geometry with a minimal start chamber
Mechanical tailgate lock
Reliable traction thanks to Additional Drive System
Constant bale density thanks to Constant Pressure System
Adaptive tailgate guide
Variable bale diameter from 0.70 to 1.60 m or 1.80 m
Simple net tie or together with twine tie
Bale shape indicator
Completely new Rotana design
Bale straw, hay or silage quickly, easily and without complication. Achieve top performance with the Fendt round baler coupled with a Fendt Vario. Whether its all about easily setting and controlling the round baler via ISOBUS, the Varioterminal at the touch of a button, or the stepless comfort of the Vario gearbox: Fendt tractors and Fendt balers make an unstoppable team.
Check out the below customer testimonial video for more information on how the RB 4180V suited Nethercote Agricultural Contracting's operation in the Latrobe Valley, Victoria.
This short video explores the design and operation of the Rotana Variable baler series
Fendt Rotana 160 V Combi
Baling-wrapping combinations for quality forage.
High compression densities, precise cut and reliable wrapping, combining to produce perfect silage from high-quality forage to keep your animals healthy. The Fendt Rotana 160 V Combi includes the right features needed to do this, like quick dropping and wrapping, and straightforward handling.
Check out the below customer testimonial video for more information on how the Rotana Combi suited Ray Howe's operation in Drouin, Victoria.
The below video explores the design of the Rotana Combi baler.
If you've read this far, it sounds like you are pretty interested in the Fendt Rotana Series. Why not give our knowledgeable team a call to find out more? We are the Fendt dealer Tasmania wide, so you can deal with someone local.
For interested parties, we may be able to offer a demonstration. Please give us a call to discuss this option further, or fill out the contact details section below:
Devonport: 03 6424 1511
Smithton: 03 6452 1222
Hobart: 03 6263 6377
Launceston: 03 6364 3822